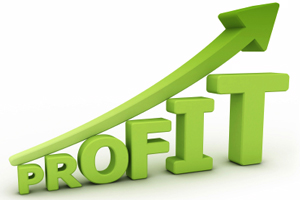 The term "Black Friday" originated across the river in Philadelphia and initially referred to the heavy amounts of pedestrian and vehicle traffic that would occur on the day after Thanksgiving.
As the phrase became more widely used outside of the Philly region, the meaning was intentionally changed to have a positive connotation. As a result, the term "Black Friday" now refers to the first time all year most businesses go from being in the red (or in debt) to being in the black (or profitable).
Imagine that... it takes nearly the first eleven months of the year before you can turn a profit. With that in mind, it's easy to see how critical those last four weeks of the year are to these same businesses.
While the phrase "Black Friday" is common, the truth behind a business finally becoming profitable at this time of the year is not set in stone. In fact, make no mistake about it, this rule will not apply to large corporate chains. The Black Friday profitability rule is a problem that primarily affects the Ma and Pas who are struggling to survive this economy -- the small shops battling the ever-growing strength of Corporate America who is creeping in around every corner with each passing year.
Take a look at Main Street -- everyday local stores are closing their doors only to be replaced by another corporate chain. Little-by-little, recipes are being created by these huge organizations for each and every industry on how they can systematically take over by creating a corporate chain who'll do it for less.
And it's not just the small and mid-size businesses anymore -- now we're starting to see even the smaller large businesses throwing in the towel. A few years ago Kay-Bee Toys closed their doors leaving only one major retailer specializing exclusively in toys. If a business as large as Kay Bee can't compete against Toys R Us, Walmart, or the internet, then how can a small shop possibly manage? (continued below)
That's why it's more important than ever before for all of us to support the small businesses that make up our communities. These stores are owned and run by your family, your friends, and your neighbors. You can almost always count on the fact that you'll receive a much better experience and personal attention from smaller shops -- something that's sorely lacking in corporate chains where the employees tend to be underpaid and under appreciated.
Whereas corporate chains have a very rigid set of rules when dealing with customers, small businesses are usually willing to accommodate special needs. Plus, you won't have to jump through any hoops to receive one-on-one attention. When you shop small, there's simply no corporate nonsense or bureaucracies to deal with.
Small business owners know that they have to provide a better experience to their customers. They simply can't move the large volume of customers through their doors that a Walmart does. Each and every customer is incredibly valuable to these small businesses.
This holiday season, when you're purchasing gifts for you friends and family, please give a gift back to your community by supporting local businesses. Every dollar that we put directly back into our hometown makes it a better place to live for everyone.